A Brotherhood Beyond Borders by Aidan Whitcomb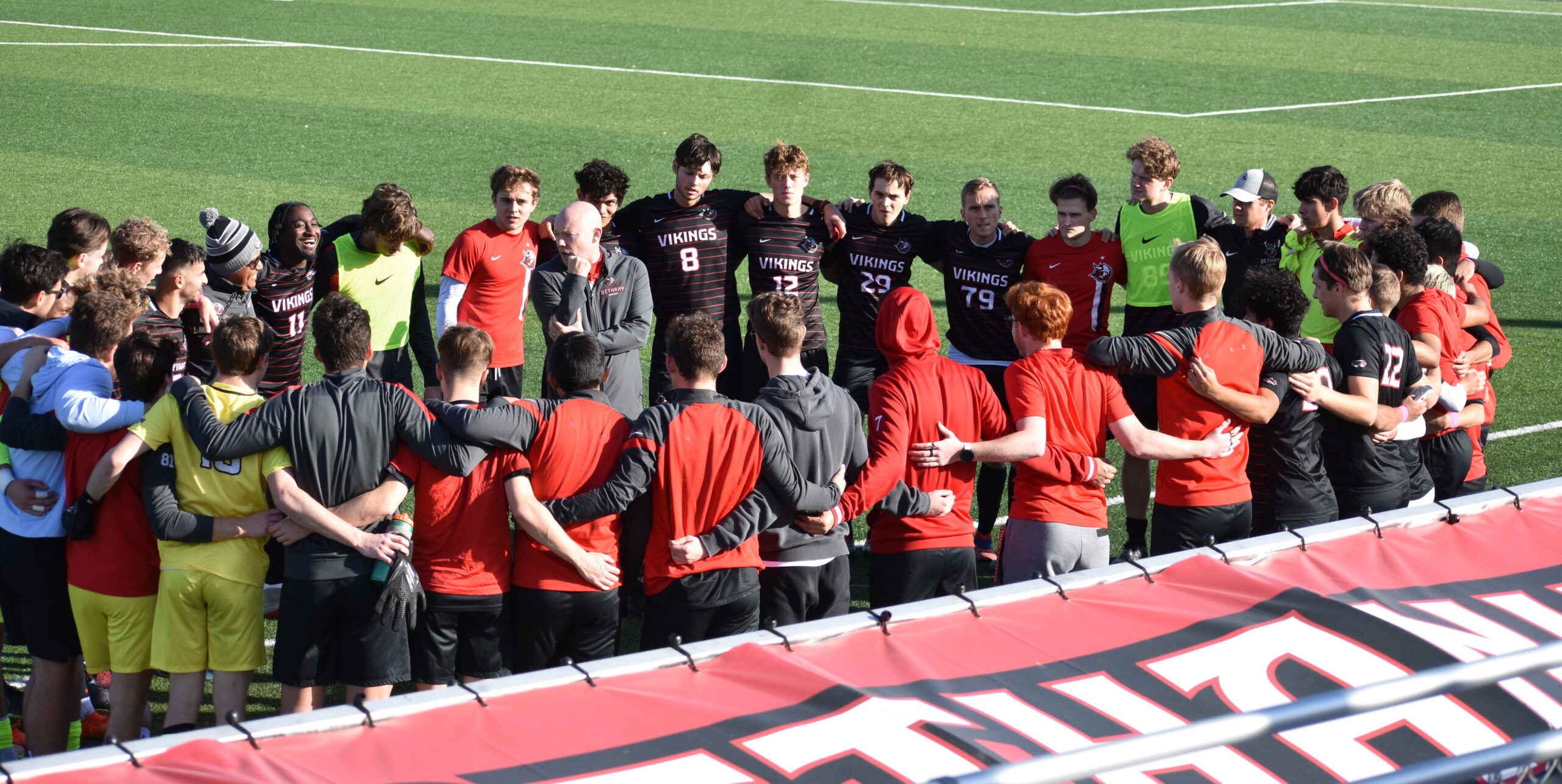 12 Americans, 5 Portuguese, 4 Swedes, 3 Italians, 3 Jamaicans, 2 Norwegians, 2 Dutch, a Brazilian, a Spaniard, a Mexican, a Greek, a German, a Brit, and a Canadian all walk out the door. No, this is not the start to a long-winded joke, but instead, the Bethany Men's Soccer team departing the SFC and heading out to practice at Scheels Field. 38 young men, including myself, from every corner of the globe, have descended upon little Mankato, Minnesota to continue our academic and athletic careers. We chose to call Bethany Lutheran College home for the 2022-23 school year.
This international bunch has been together on campus since August 16 and had just 15 days to prepare for the first match of the season. Those first couple of weeks were full of introductions and learning. Learning each other's names, backgrounds, and cultures was just as important as learning their on-field tendencies. The Portuguese players played differently than the Swedes, and the Americans played differently than the Italians. Somehow, we would have to find a perfect blend of those styles in order to be successful in our season. We would have to transition from a group of 38 individuals into one collective brotherhood.
—
"We would have to transition from a group of 38 individuals into one collective brotherhood."
The season started with an evening match under the lights against Buena Vista. The time had come. The preparation had been done. Everyone was eager to see the squad in action. Buena Vista surprised us early on, springing a quick counterattack that led to the game's first goal. It would've been easy to get dejected after going behind in the first game of the season. But we held strong and responded accordingly. A quick equalizer brought the game level and another two tallies before the end of the half gave us a 3-1 lead heading into the break. It was the kind of response we needed, but also that we expected. The second half was full of opportunities for us, but we were only able to put one more past the Beaver goalkeeper. Disjointed would've been a good word to describe that first game. Things weren't clicking as well as we wanted, but that was to be expected with the first game of the season. Still, we were able to fight through the troubles and come away with the victory, starting the year off on the right foot.
—
American actor and passionate soccer fan Matthew McConaughey put it best, "the greatest invitation in the world is the soccer ball". The soccer ball unites groups of unlike people like nothing else can. Soccer is the global sport. It is estimated that there are over 250 million soccer players in the world and a staggering 3.5 billion soccer fans. McConaughey called soccer "the one game you can depend on being played anywhere in the world". With so many places for players to choose from, it is truly amazing that these 38 guys have made their way to tiny Bethany to share their passion and skill with everyone.
—
The season quickly continued just a few days later when the Vikings would travel to St. Paul to take on Hamline. Hamline is a part of the Minnesota Intercollegiate Athletic Conference, a conference that Bethany (members of the Upper Midwest Athletic Conference) hasn't had much past success against. Coming into the match, the Vikings had lost 37 consecutive games against MIAC opponents. This year's squad was determined to change that. Once again, the Vikings faced some early adversity after going down a goal. But akin to the Buena Vista match, an instant reply leveled the battle. The teams were tied 1-1 going into halftime, but with us being the more dangerous team. The Vikings would find their breakthrough in the second half and take a 2-1 lead with 20 minutes remaining. The chance to knock off a MIAC school was suddenly real. A combination of furious defending and strong wills ultimately led us to the historic victory.
—
Personally, growing up in a very suburban Minnesota high school environment, interacting and playing soccer with such a diverse group of guys was a huge difference. Nearly everyone I had played with growing up looked like me, talked like me, thought like me. I was always in the majority. However, collegiate soccer has changed the way I create lasting friendships. It is so awesome to be able to tell people I have friends from all over the globe. People always say how America is a melting pot of culture and ethnicity. But from my perspective, in my hometown, it was always hard to really see that in action. I've experienced that in small amounts, while traveling the states, but Bethany has really become that melting pot.
—
After two wins in the first week of the season, the energy around the team was high. We had proven that we can contend with the big teams and the dream to win a conference title and make a first ever trip to the NCAA tournament was in our sights. This team was bonding; teammates were turning into brothers. Next up, we faced arguably our toughest test of the season. A date with the perennial powerhouse Gustavus Adolphus would allow us to measure ourselves against one of the nation's top D3 teams. We knew it would be tough and would require a lot of grit and determination, especially after going down 1-0 early for the third consecutive game. However, just as we had all year, we stayed resilient and responded to the challenge. A penalty kick goal would tie the score at 1-1. The rest of the game was spent defending our net for our lives, keeping the Gusties attack at bay. Another strong defensive performance was rewarded with a proud 1-1 draw. The result was surely one of the best in program history. At the time of writing this piece, Gustavus is undefeated and ranked 8th in the nation.
—
Since that opening week, the games came one after another. A tough 0-0 draw against Dordt, an unfortunate 1-2 loss against UW Eau Claire, and a bounce back 5-1 victory in the UMAC opener against Martin Luther set the stage for a clash between the past two seasons' best UMAC clubs. UW Superior, was last season's regular season co-champions with us, and the playoff champs. We knew Superior would be full of confidence after defeating us in overtime of the 2021 UMAC final, but we were hungry for revenge. A lightning fast start for us, gave us a 1-0 lead and the energy at Scheels Field was electric. Our confidence was dangerously high, at that moment we felt sure that we were the better team and could walk our way to the win. We wanted to be the favorites now and Superior would have to give us the respect we deserved. However, that dangerous confidence would come back to bite us as three late first half goals quickly stole that aforementioned energy from our hearts. Heads sulked and shoulders slumped as we walked towards the corner flag to have our halftime discussion. We knew we had the chance to deliver a huge blow to Superior and we let it slip through our fingers. It would take a massive second half performance to complete the comeback, and we just didn't have it. We would go on to lose 2-4 and the dreams of winning another regular season title would mean we have to battle from below the Yellow Jackets in the standings. Frustrations were high, but calmer heads needed to prevail if we wanted to hoist that coveted trophy at the season's end.
Following the loss, the Vikings went on an impressive run of good form. A commanding 5-0 victory over Northland College and a 8-1 thumping of North Central. A gritty 1-0 win over Northwestern and another win against a MIAC school, 2-1 over Bethel. These results had us back on our A game. A tricky 1-1 draw against UM Morris had us angry for a while, but we responded nicely with two 4-0 triumphs over Crown and Martin Luther. These results had us heading on a collision course with our two toughest UMAC foes, Northland and UW Superior. A back-to-back day contest between both sides would set up to be the most important matches of the year, in terms of a regular season title race. Two wins, and the power would be in our hands. We would have total control of our fate. However, a slip up to either squad would mean that winning a regular season trophy would be rather difficult. The forecast would be cold, just like the animosity between the bitter rivals. Our unbreakable, brotherly bond would need to rise to the occasion in order to claim victory.
"We, the Bethany Lutheran Men's Soccer team, are brothers. A bizarre, eclectic, ethnically diverse, culturally variegated, group of brothers. No borders, of any kind can or will divide us."
—
Each Bethany game and practice begins with a team talk followed by a collective cheer that I think perfectly describes the necessary environment for a winning team. One player or coach will count "1, 2, 3" and then the tightly-knit band of brothers will yell out "Family!". "Family", a word that is often taken for granted but means so much. Family is those people that you will laugh with, fight with, cry with, and stand together no matter what. They will be there when you need them most and they will get you through the toughest times. We, the Bethany Lutheran Men's Soccer team, are brothers. A bizarre, eclectic, ethnically diverse, culturally variegated, group of brothers. No borders, of any kind can or will divide us. We are united by the beautiful game and our passion for it. "The greatest invitation in the world", soccer.
---
---