The Art of the Rom Com: A Theatre Physics Review by Audrey Amiling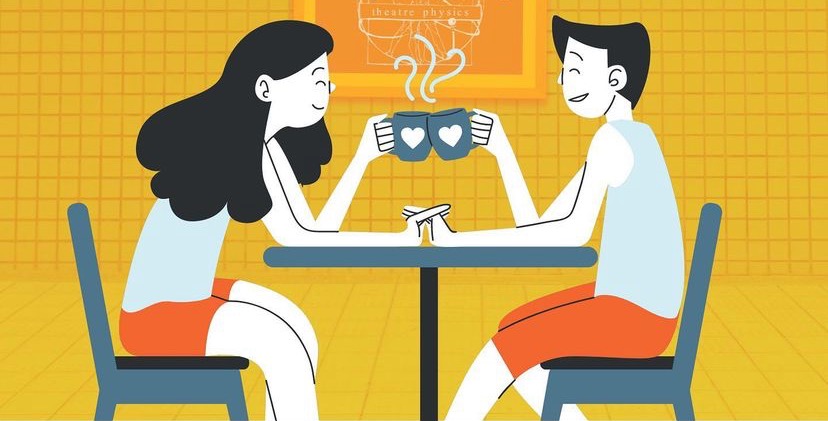 Within the span of two weeks (or so), a talented group of Bethany students collaborate to create an original show: Theatre Physics. The short preparation time and experimental nature of the skits set the performance apart from most shows that Bethany's theatre department puts on. But, Theatre Physics's uniqueness is one of the best things about it. Besides a guaranteed good time, the audience never knows what exactly to expect. For the cast and crew, this annual show provides an opportunity to come together and display their creativity and artistic talent.
This year featured the "Rules for Rom Coms." The first half of the skits were mostly sketch comedy (a series of short, amusing scenes) and physical comedy (a form of comedy focused on physical manipulation or exaggeration). Though not all of them were strictly related to the theme, they were nonetheless entertaining to watch. From a rowboat of pirates who turned pop songs into sea shanties, a man-eating couch, and impressive acrobatics, these were just some of the various enjoyable acts. Some of the skits were a little too awkward for my taste. Maybe they just weren't really my style of humor. But overall, I enjoyed it.
"It felt like I was watching Hallmark writers brainstorm for the upcoming holiday season…"
The second half was my favorite. It was fun and fast-paced, though admittedly with numerous but amusing moments of second-hand embarrassment. Each scene was dedicated to explaining a different trope commonly used in romantic comedies – that is, the "Rules of Rom Coms". It felt like I was watching Hallmark writers brainstorm for the upcoming holiday season: meet cutes, the "relatively" clumsy (and hot) female protagonist, the smart and sensitive (and also hot) male protagonist, the life-changing makeover (i.e. the girl takes off her glasses and maybe lets her hair down), the mandatory pickup basketball game. The passionate demonstrations of each trope combined with the rowdy reactions of the crowd to make an exciting atmosphere.
Overall, this year's Theatre Physics was yet another enjoyable experience. While I thought a few of the skits in the first half were uncomfortable, the rom com rules were hilariously accurate. The actors were exceptional, showcasing their originality and abilities which kept the audience engaged and energetic throughout the evening. It was yet another example of Bethany's well-regarded theatre department putting together a great performance that is emblematic of past success and offers much anticipation for future productions.
---
---