Sophia Weisensel Profile by Linnea Anderson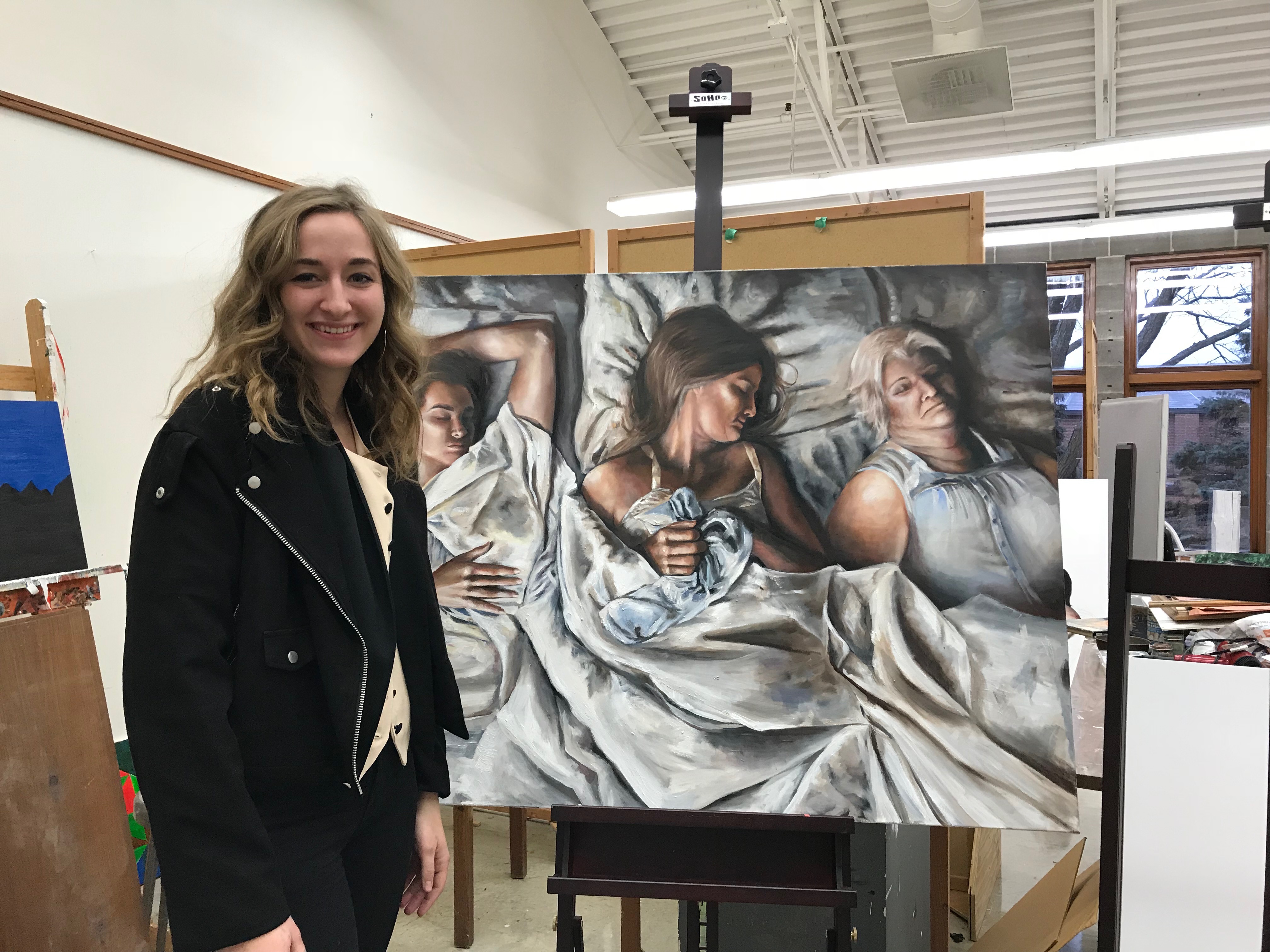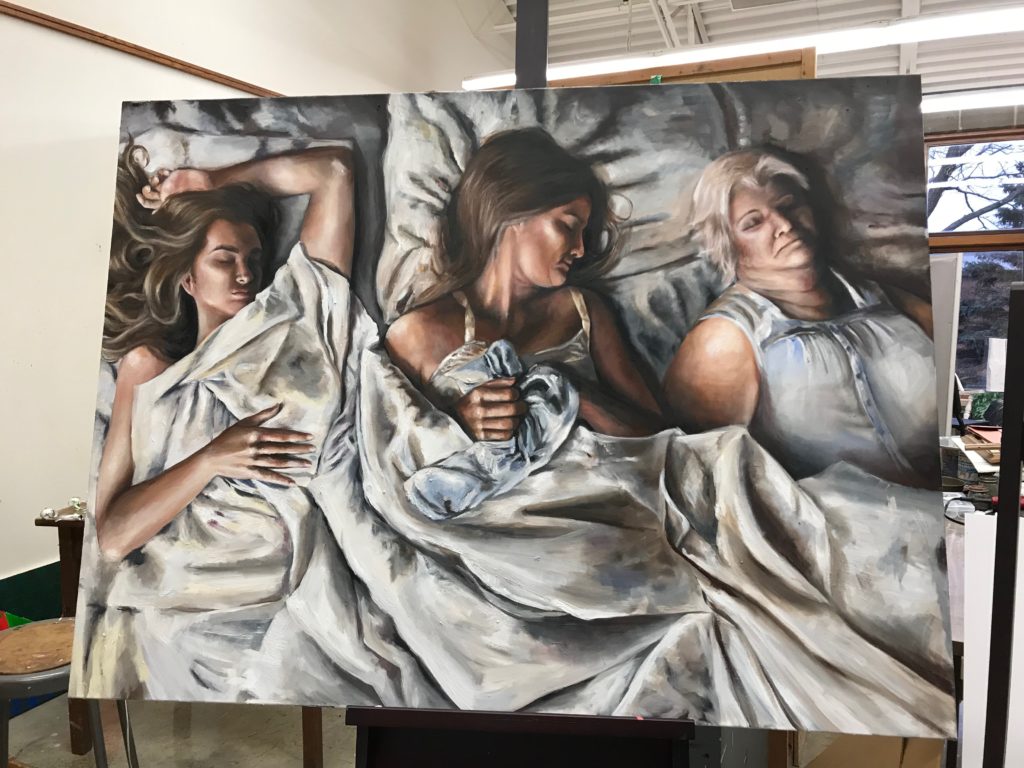 Year: Senior Major: Studio Art

Sophia Weisensel has always loved art. What started out small with princess doodles eventually turned into a full-fledged passion. She was influenced by her high school teacher who sparked excitement in her and pushed her to grow. At that time, she started to notice and develop her own ideas as well as the ideas behind other works of art. Even with her natural talent and love for art, she admits it doesn't always come easy for her: "there is a constant struggle with conveying my ideas. What I imagine painting in the beginning isn't usually what ends up on canvas." But often that struggle seems to produce the best work.
Her favorite type of art to create is portrait painting (figure painting). She fell in love with portrait paintings when she first saw a portrait by Egon Schiele. The portrait captured an intensity and emotion, and that intensity of the human spirit has become what Sophia now seeks to capture in her own work. She wants to create art that creates feeling, and so focuses on portraying people since this seems a key way of evoking emotion in her audiences. In each painting, she seeks to capture a moment that will connect with the viewer and allow the spirit of the painting to live on.
Sophia is not just creative when it comes to art. She is also an amazing writer which she says is connected to her painting. She considers herself a creative person and her creativity with words and visual art both derive from the same place. When she is starting a new painting, she often likes to write about the painting first. Writing helps her think about her paintings and makes it easier for her to talk about them later. Her writing helps her connect to the visual work in a way that may not have been possible otherwise.
As Sophia thinks about her life after Bethany, she is considering a couple options. She is currently applying to grad schools and would love to paint full time. Some day she would possibly like to work in a gallery or maybe even teach art. Her advice to art students just starting out is that you should show your art wherever you can. Start thinking about if you want to go to graduate school and how to make your resume impactful. Write down any and all ideas and allow yourself to develop them. Finally, do not be discouraged by other people's creativity – every artist has their thing, their strength, their own skills. Focus on yours.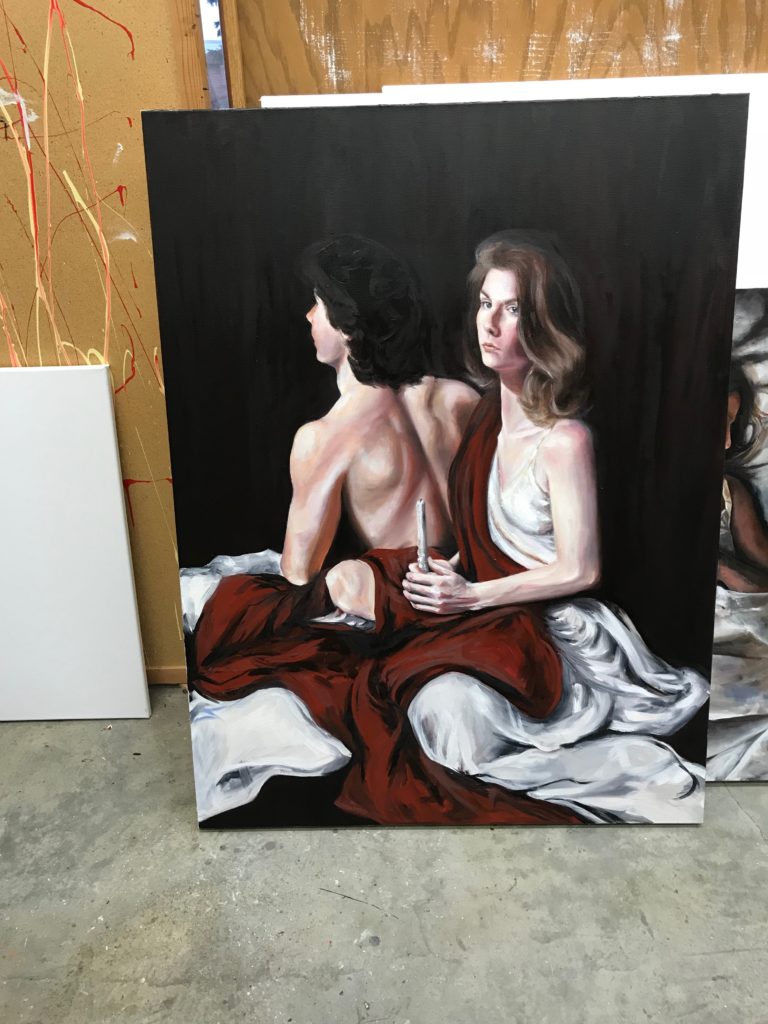 ---
---